The Mobility Conquest, a sleek motorcycle trike designed for the wheelchair-bound, will make its debut July 4-9 at the National Veteran's Wheelchair Games in Denver.
We are excited to participate and sponsor the Veterans Wheelchair Games. We look forward to helping our service men and women reconnect with their passion for riding motorcycles.
The Conquest offers stylish freedom for the wheelchair-bound driver with challenges from the waist down who wants to still enjoy the thrill of riding a cycle on the open road. The Conquest offers convenience, maneuverability and safety to a driver. It also offers independence as entry into the trike is easy with the driver remaining in his/her own wheelchair and gliding up the built-in, rear ramp. The trike then safely locks into place for a smooth ride. The Mobility Conquest is dedicated to providing handicapped persons who have a love of the road and desire to reconnect with the sport following disability.
The trike is fully road and track tested and complies with U.S. safety standards. A BMW engine allows the trike to accelerate to 60 mph in 7.6 seconds. Six hand-controlled forward gears plus reverse and keyless entry are standard on all Conquests. Each trike can be tailored to individual needs and other options are also available. An added benefit: each trike can comfortably accommodate a passenger. Uniquely designed front and rear suspension help to avoid any changes to driving or handling due to the increased weight of a passenger. Another benefit is that a service animal may also ride along.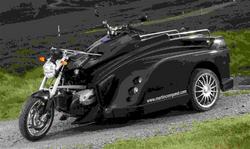 The Conquest Motorcycle