College student's wheelchair stolen from campus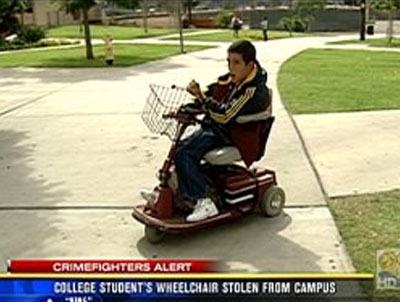 A disabled college student is having trouble getting around campus, after someone stole his motorized wheelchair. He emailed the News 8 CrimeFighters asking for help tracking down the thieves responsible for this unthinkable crime.
Twenty-seven-year-old Horus Ocampo is moving around Palomar College a bit slower these days, using a scooter. Earlier this month, thieves stole his motorized wheelchair from campus.
Horus had locked it up and left it charging overnight. When he returned to campus, it was gone - all that was left was the charger.
"I'm having a hard time going to my classes because this [scooter] is really slow, and I'm having a hard time turning it around," Horus said.
Horus has cerebral palsy. His friends are helping him get around campus, but it's not easy. His stolen wheelchair had a custom joystick that allowed Horus to maneuver with one hand. The scooter requires two hands to steer.
"He's frustrated. He can't maneuver as he used to in his other chair and that's affecting him I think. It would be nice to get him back into the chair he had before," Palomar College faculty member Henry Lesperance said.
Horus' wheelchair cost about $5,000 and that means whoever stole it faces grand theft charges.
"It's really difficult for me to replace it. To replace it, it would take me like a year," Horus said.